HEY FRIENDS!!!  Friends of friends, and everyone you know…. Come hang out with us from 2pm to sunset at LA state Historic Park! We are hosting a Fruit Tree Adoption for everyone who pre-registers, Public Juicing Station, Fallen Fruit Jam and Toast, Trans-dimensional blessings and oracle readings by legendary performance artist Anna Homler, 'Interpretive Orange' performed by Page Person, music by multi-disciplinary artist Davia Spain , and a crystal bowl sound healing by DOM at sunset. Bring friends, a blanket, food/snacks, warm clothes and some good vibes to share the love.
xoxoxo, Austin and David / Fallen Fruit
Adopt a fruit tree Saturday November 13 at LA State Historic Park – email us here: FALLEN FRUIT
Plant a fruit tree next to the sidewalk and map it- sign up here: endlessorchard.com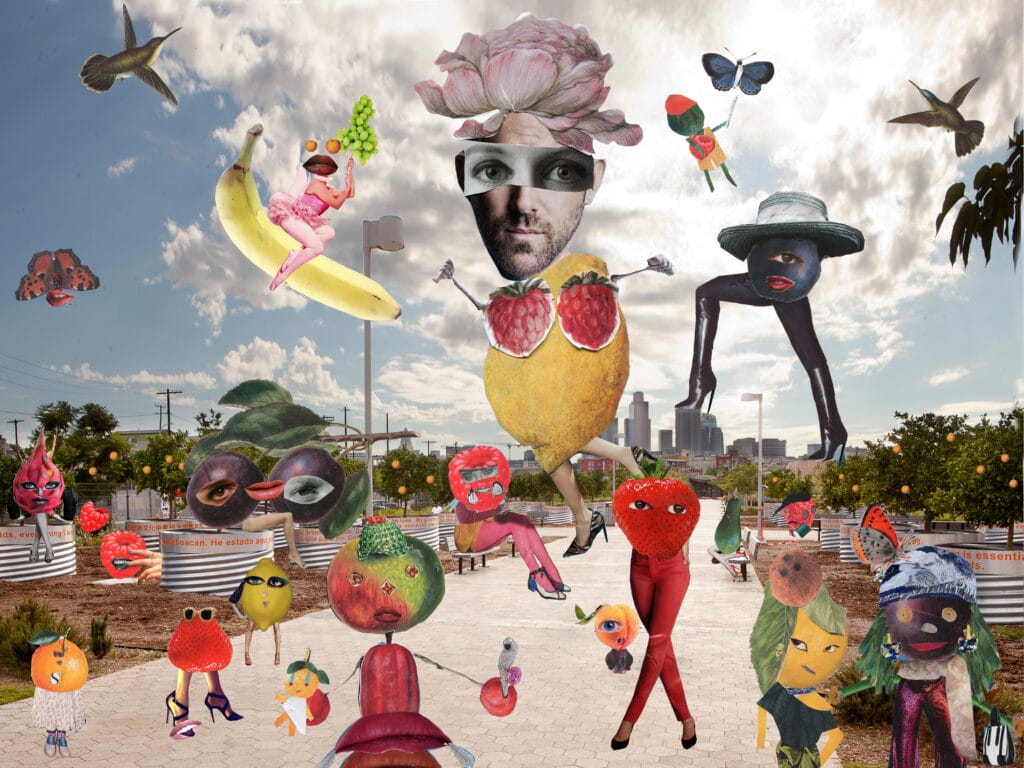 PUBLIC EVENT IN LOS ANGELES: SATURDAY, NOVEMBER 13, 2021 — at LASHP, 2pm to sunset.
ENDLESS ORCHARD by FALLEN FRUIT – Launch Celebration and a Public Call to Action
YES! SI! OUI! JA! RIGHTON!! What if you could walk down the street and pick an apple or an orange? Can public and private fruit trees offer more than just decor to our neighborhoods? What if they were a public service to the community? It's all possible with the Endless Orchard, the world's largest collaborative public artwork –a non-contiguous global fruit orchard planted, mapped, shared, and cared for by everyone who participates.
Image credit: courtesy of Fallen Fruit. Join us for a public gathering and fruit tree adoption at the Monument to Sharing on November 13 at Los Angeles State Historic Park  (LASHP)
PLANT A FRUIT TREE AND SHARE IT WITH THE COMMUNITY.
SATURDAY, NOVEMBER 13, 2021
2pm to SUNSET
Free to the public!
LOS ANGELES STATE HISTORIC PARK (LASHP)
1245 N Spring St, Los Angeles at at the Monument to Sharing
CHINATOWN / DTLA
2pm to Sunset: Public Fruit Tree Adoption, Public Juicing Station, Fallen Fruit Jam and toast and more.
2pm to 4pm Page Person performs 'Interpretive Orange'
2:30 to 4:45pm Anna Homler Trans-dimensional blessings and oracle readings
4:00 music by multi-disciplinary artist Davia Spain
4:40  Dom Crystal bowl Healing Sound Session at SUNSET
Join Los Angeles-based artists David Allen Burns and Austin Young from Fallen Fruit for a Fruit Tree Adoption and celebration of the ENDLESS ORCHARD. Help us expand local access to public fruit by adding 100 new public fruit trees to Los Angeles mapping the trees at EndlessOrchard.com.
Endless Orchard Fruit Tree Adoption is free and limited to 100 applications. Recipients are required to plant trees in or on the margins of public space, to ensure that the fruit will remain permanently accessible to the public, and agree to map their trees with EndlessOrchard.com. To apply send an email to info@fallenfruit.org
Read the LA WEEKLY story about the Endless Orchard HERE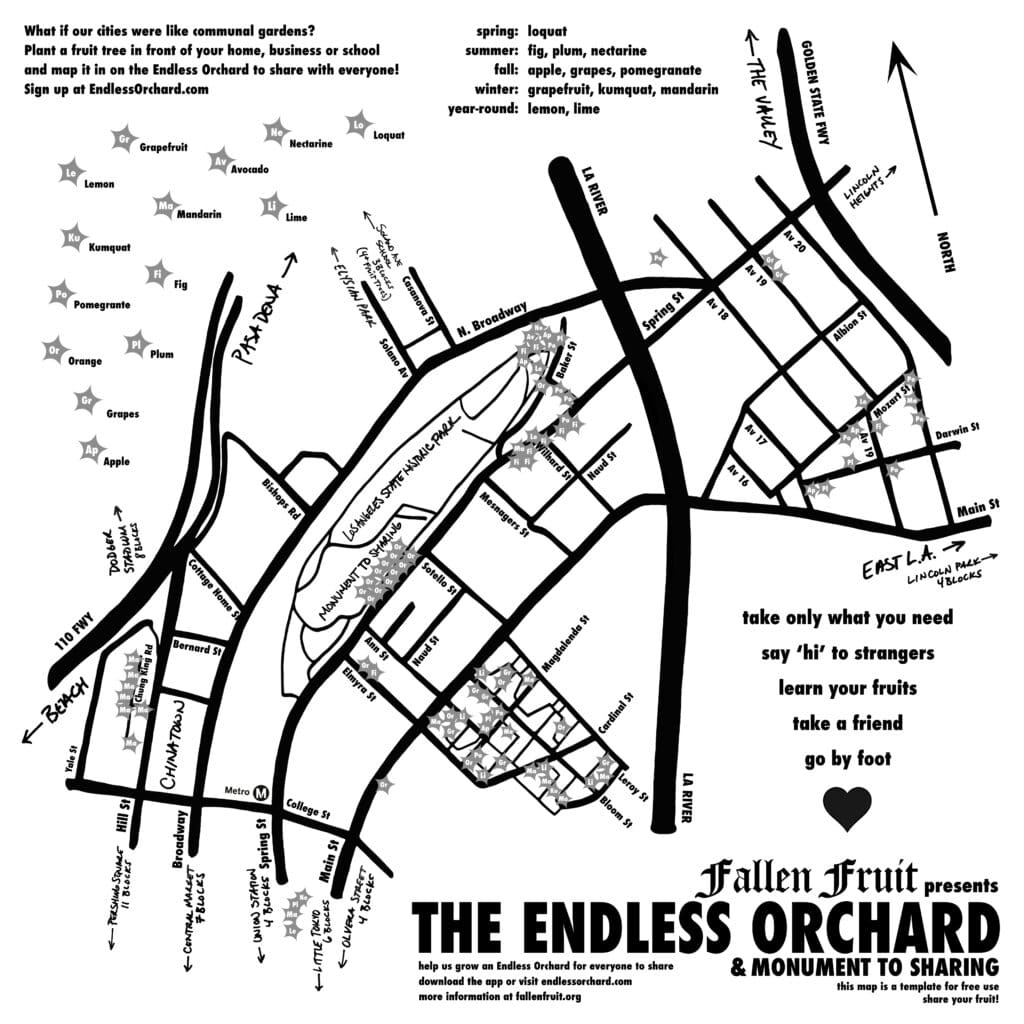 SHARE YOUR FRUIT!
To apply for the fruit tree adoption, send an email to info@fallenfruit.org, with 'Fruit Tree Adoption' in the subject line and include the property address and the location of the planting area and/or photograph. The event and adoption are free to participate.
THE ENDLESS ORCHARD FRUIT TREE ADOPTION EVENT:
1. You have space along a sidewalk or fence of a home, local business, apartment building, school, or community center. You must plant in private space or obtain a permit to plant the fruit tree in public space
2. The selected location is sunny and is being watered or can be watered regularly.
3. You agree to share the fruit tree with neighbors and passersby and map it on the Endless Orchard website.
4. Apply at info@fallenfruit.org to participate.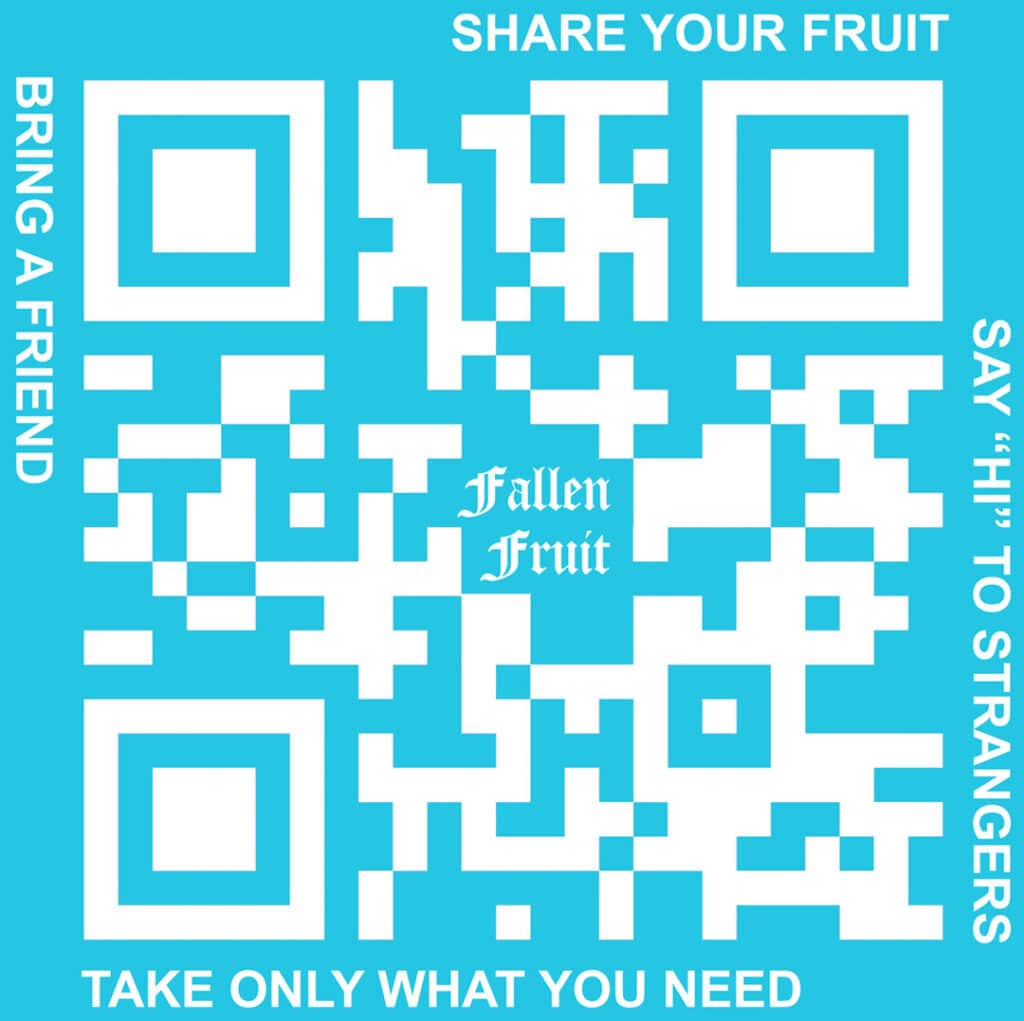 A PUBLIC CALL TO ACTION: JOIN US! PLANT A FRUIT TREE TO SHARE WITH EVERYONE. Let's make an Endless Orchard. Plant a fruit tree next to the sidewalk, or along a fence near your home, school, community center, or business. On or next to public space. Water and care for your tree and map it on EndlessOrchard.com to share with others. Encourage local governments and elected leadership to take action and plant fruit trees in parks, public-rights-of-way, and along sidewalks. Dig up cement and make our cities like communal gardens where fruit can be harvested by everyone. Identify pre-existing fruit trees in neighborhoods and map them.

Fallen Fruit aims to position this project globally and engage communities around the world with the idea that generosity begets generosity. "Sharing is the definition of culture. Time, ritual, common interests, a meal, geography. It's all about sharing." -Fallen Fruit

During the pandemic, our collective experiences of everyday life have become more meaningful. Our need to be social and go outside became essential. As food shortages erupted due to quarantine related closures and global supply chains were interrupted, the drive to eat hyperlocale and grow edible gardens exploded.

We have already established public fruit parks in 19 different cities across the United States. Fruit tree plantings have been initiated across Southern California including Culver City, San Diego, Torrance, Riverside, San Bernardino, Downtown Los Angeles, Westlake, and across the United States in Buffalo, Columbus, New Orleans, Omaha, San Diego, Philadelphia, New York City, and more. What we're excited about is that these fruit trees will be here for generations. In many cases, the project sites have been declared as works of art, so that those spaces must persist in the public realm as a place for sharing. The fruit trees would be replaced if necessary.

A forthcoming downloadable PDF will include all of our instructions on planting trees and sharing with the Endless Orchard.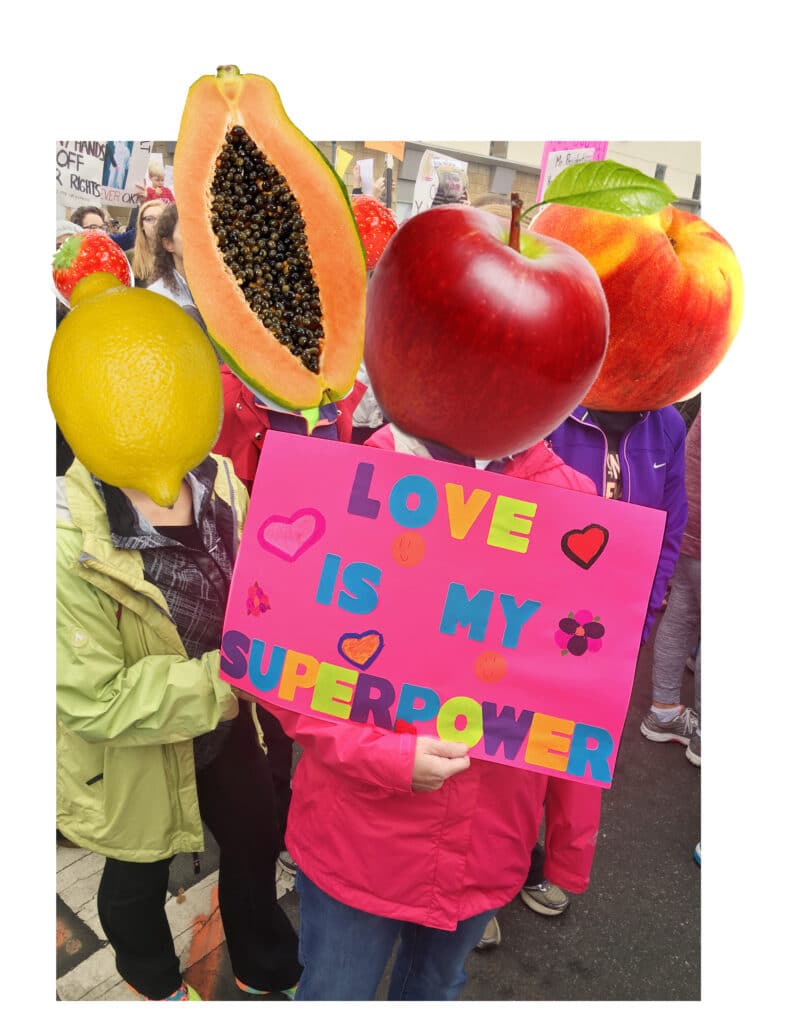 "The Endless Orchard is linked to ideas of place and history, and echoes a sense of connectedness with something very primal – our capacity to share with others" – Fallen Fruit

ABOUT ENDLESS ORCHARD: ENDLESS ORCHARD by Fallen Fruit (David Allen Burns and Austin Young) is a Creative Capital awarded project and is funded by Creative Capital, and The Muriel Pollia Foundation. The Endless Orchard website was designed and developed in partnership with Code Rodeo. The Public Fruit Tree Adoption and the launch of the ENDLESS ORCHARD on November 13th is in honor of Jerry Luedders and the Muriel Pollia Foundation.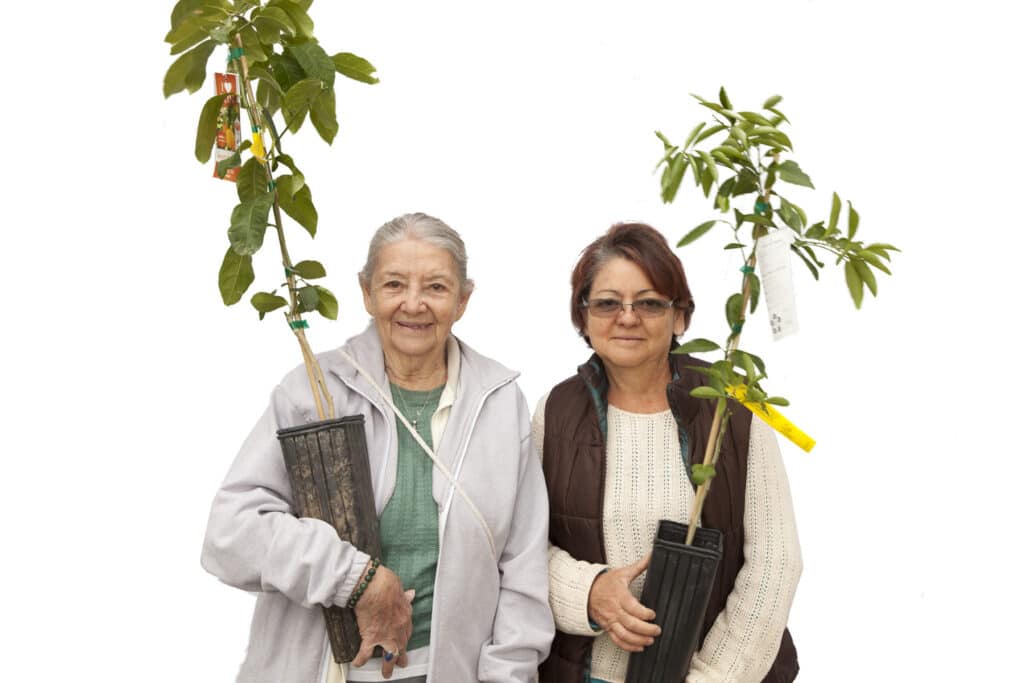 ABOUT FALLEN FRUIT
Fallen Fruit (artist duo David Allen Burns and Austin Young) is a collaborative art project that began in Los Angeles with creating maps of public fruit: the fruit trees growing on or over public property. Their work explores participatory art practice, reflecting upon a broader, global environmental movement involving contemporary art and public spaces. Fallen Fruit uses geography and history as indexical tools to create serialized and site-specific works of art that often embrace public participation. The work of Fallen Fruit includes public art projects (Public Fruit Jam, Lemonade Stand, Fallen Fruit Magazine), site specific commissions (Monument to Sharing, Stoneview Nature Center, Theater of The Sun), and museum art installations (NGV Triennial, V&A Museum's " FOOD: Bigger Than the Plate," Empire, The Practices of Everyday Life, EatLACMA).

Fallen Fruit has been recently featured in "What Artists Are doing Now," Arterritory; Best of LA Arts, LA Weekly; 15 Los Angeles Artists to Watch, ARTnews (Cover); Artforum (Critic's Pick); Consumed, New York Times Magazine; "Tasty and Subversive Too", The New York Times; Conde Nast Traveler "18 Best Shows in London;" "Food Matters," The New York Times; and "How Fallen Fruit is Changing the Art World & Life in LA," LA Confidential (Cover and Feature). Their work has also been featured in such book publications as The Idea of the West by Doug Aitken, The Omnivore's Dilemma by Michael Pollan, Come Together: The Rise of Cooperative Art and Design by Francesco Spampinato (Princeton Architectural Press) as well as numerous broadcast radio, TV, video and blog venues.
Fallen Fruit is an art collaboration originally conceived in 2004 by David Allen Burns, Matias Viegener and Austin Young. Since 2013, David Allen Burns and Austin Young have continued and expanded the collaborative work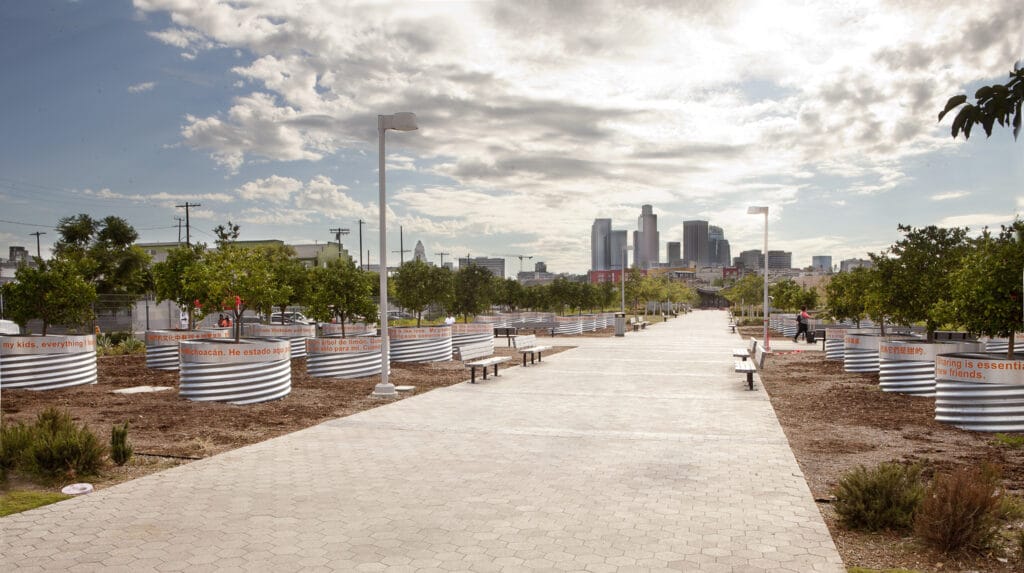 ABOUT THE MONUMENT TO SHARING: Established in 2017, Monument to Sharing is a permanent public artwork by Fallen Fruit composed of community sourced phrases that wrap around thirty-two public orange trees. The interviews were gathered while planting publicly accessible fruit trees in front of homes and businesses within walking distance of LASHP, the phrases create a poem that describes what it means to be a great neighbor.