Public Fruit Maps, dimensions variable, 2004 – ongoing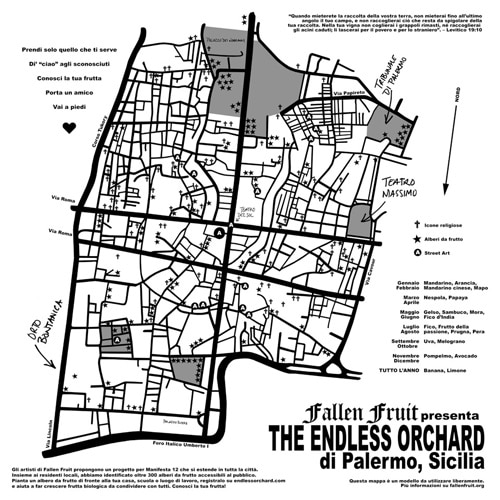 One of Fallen Fruit's core projects is to map neighborhoods to which we are invited, mapping all the fruit trees that grow in or over public space. Only pick fruit that is on public space unless you have permission from the property owner. You can find all of our map on the Endless Orchard. If you want to contribute to our online maps- email us! The maps are hand-drawn and distributed free from copyright as jpgs and PDFs. They are regularly reproduced in the media and have been exhibited in museums and gallery exhibitions internationally. The dimensions of the maps are variable and range from 8″ x 10″ to 40″ x 60″. This is an ongoing and ever-expanding project.
NOTE: These maps are for entertainment purposes only. Never trespass or take fruit from private property. Only pick fruit that is clearly in public space- for example hanging over the sidewalk or in the parkway. If you are not sure, ask. Also if you are happy to help us with providing a map, then please make sure that it is your own work. We do not want to deal with someone like this trademark attorney Denver has to offer. Unless you have their permission of course. This is all for a bit of fun and just makes apple picking a lot easier. We look forward to having you onboard!