May 23, 2016
The Endless Orchard at William Mead Housing Planting Day!
WILLIAM MEAD RESIDENTS: Plant fruit trees for everyone to share!
Join Fallen Fruit's 'The Endless Orchard' Planting
and Barrel Painting Day for William Mead Homes!
June 5th – 10 am to 2 pm in front of William Mead's Social Hall
*This Tree adoption is for William Mead Homes residents only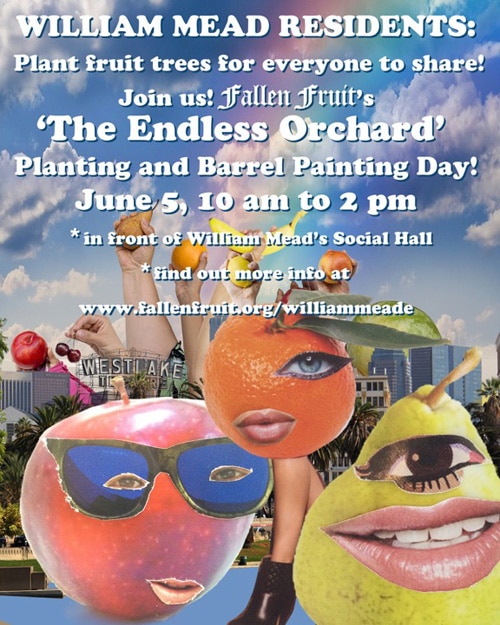 Adopt a community fruit tree and barrel for William Mead Housing:
What if instead of going to the grocery store for an orange or lemon, you just walked outside your door? Imagine a future in which cities and neighborhoods across the world are not only full of fruit trees, but mapped and labeled so that you can walk up to them and pick the fruit yourself. It takes a community to grow an Endless Orchard – and you can help bring this sustainable, collaborative public artwork to fruition!
Being a part The Endless Orchard is easy:
Sign up to adopt one of 24 fruit trees to share with the William Mead Homes community
Join us on Saturday, June 5th to plant the trees and paint the 55 gallon planter!
Agree to help care for the fruit trees and share the fruit with neighbors.
Together, we'll make a map and place the fruit trees within William Mead community.
To Participate: email  info@fallenfruit.org. Include your name and phone number.
LIMITED NUMBER OF TREES SO SIGN UP TODAY !
The Endless Orchard is an on-going installation of fruit trees on or in the margins of public space and designed to provide communities with an urban experience that can be cared for, cultivated and shared by the public. 'Urban Fruit Trails' have already been planted in Los Angeles, Riverside, Omaha and Portland. The goal is to connect neighborhoods and create walking trails from public transportation to local destinations. The fruit trees are planted on the margins of public space, along sidewalks and parkways where the fruit can be shared with everyone. The trailhead will be at the orange grove in Los Angeles State Historic Park and fruit trees will lead out into the surrounding neighborhoods.