October 6, 2014
Public Fruit Jam! Sumter County! October 7th
Fallen Fruit Public Fruit Jam
Public Fruit Jam, Fallen Fruit, Tuesday, October 7th @ 6 PM
Coleman Center for the Arts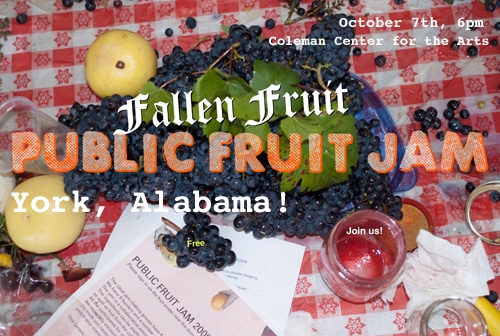 Please join CCA artists David Burns and Austin Young of Fallen Fruit on Tuesday, October 7th at 6 PM at the CCA. The artists invite Sumter county residents to join them in making fruit jam. Flavors will depend on the ingredients that the group generates. If possible bring some fruit that you grew or picked yourself. The CCA will provide all necessary materials. Bring some fruit or just yourself!
Dinner will be served. Converse and share feedback about the Fallen Fruit's ongoing collaboration with the CCA and York community. Participants will have the opportunity to take home jam with them.
Fallen Fruit is an art collaboration originally conceived in 2004 by David Burns, Matias Viegener and Austin Young. Since 2013, David and Austin have continued the collaborative work.
For more information please call us at 205-392-2005.