Public Fruit Parks in Columbus Ohio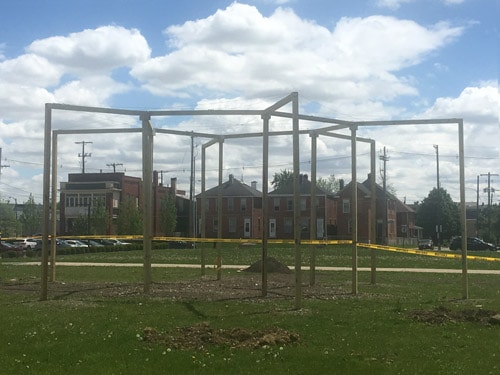 Fallen Fruit's Heirloom Trellis, 2017
Spring 2017, artists David Burns and Austin Young partnered with the Wexner Center and community organizations to create two public fruit parks in Columbus—Weinland Park Berry Patch (at East 11th Avenue and North 4th Street) and South Side Fruit Park (at South Washington and Reeb Avenues). The parks are a part of Fallen Fruit of Columbus: Block after Block, a suite of evolvinge South Side site-specific projects designed to provide area neighborhoods with a shared resource (fruit!) and spaces for collaboration. The parks were accompanied by an installation at the Wex that reflected the culture and history of these marginalized neighborhoods.
The Weinland Park site, Weinland Park Berry Patch, will hold an installation of about 40 berry bushes native to the season, chosen for hardiness and sweetness. About 40 trees will be planted at the South Side location, to be called South Side Fruit Park. A fruit tree adoption program will be launched at both sites to engage more community residents, organizations and businesses, and will extend fruit trees and bushes beyond the park.
The fruit each location will yield is intended for the community to share and will be selected with an eye towards the history and preferences of each neighborhood. Varieties will also be "timed" to ensure that upon maturity, something will always be available during the growing season. For both sites, community neighbors will also be invited to propagation workshops in which they can share cuttings of favorite flowering vines, and fruit-producing trees and bushes, for planting in the installation. These final plantings in the park will be tagged to identify the contributing families and the history of their chosen fruits and shrubs.
All the fruit planted will be mapped on an in-development website and mobile app for Fallen Fruit's massive public art project, Endless Orchard, launched in early 2016.
"This park doesn't follow the model of a 'community garden', but rather a communally shared space and a beautiful spot to hang out or share a meal with family and friends, where fresh fruit can be freely enjoyed by neighbors, and park visitors", according to Burns and Young.
"We are thrilled to partner with the Wex and Fallen Fruit, and others on this wonderful project in South Columbus", says Bob Leighty, Executive Director of the Parsons Avenue Merchants Association—one of a number of local partner organizations. "Our new fruit park will be a special gathering place for young and old alike, where we can enjoy fresh fruit and build meaningful relationships with family and friends."
In tandem with Fallen Fruit's community outreach, the artists have conducted research at the Ohio History Connection to produce a site-specific installation, Block After Block, for the Wexner Center's public spaces and Heirloom Café. This work will debut in March 2017. More information will be shared in a forthcoming announcement about the center's spring exhibitions.
Fallen Fruit's projects in Columbus are produced in close collaboration with The City of Columbus, Community Housing Network, Ohio State University Extension, Parsons Avenue Merchants Association, The Reeb-Hosack/Steelton Village Community Association, Wagenbrenner Development, the Weinland Park Community Civic Association, and the Wexner Center for the Arts.
Funding is provided by Big Lots Foundation, the City of Columbus, The Columbus Foundation, Oakland Nurseries, Ohio Capital Corporation for Housing, Puffin Foundation West, Ltd., Scotts Miracle-Gro, the Shackelford Family Foundation, and the Neighborhood Partnership Grants (NPG) program, a collaborative sponsorship of The Columbus Foundation, United Way of Central Ohio, the City of Columbus, and PNC.
Special thanks to the 70 donors who supported this project through Ohio State's Buckeye Funder crowdfunding platform.