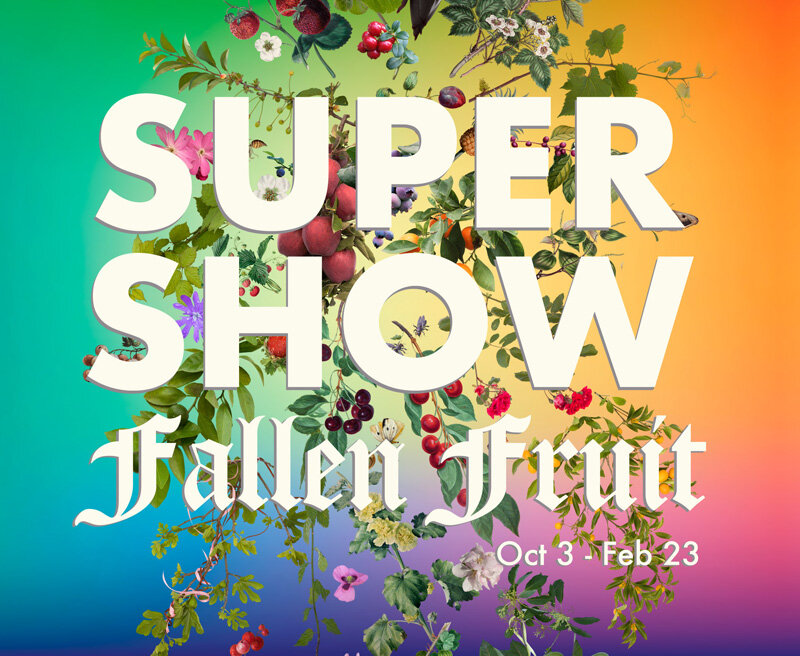 an exhibition by Fallen Fruit (David Allen Burns and Austin Young)
October 3 – February 23
PDC Design Gallery's inaugural exhibition, SUPERSHOW, features the work of Los Angeles-based artists Fallen Fruit (David Allen Burns and Austin Young) and opens Thursday, October 3 with a reception from 5:00 – 10:00 pm and includes "Fruit Cocktail," a special performance by Fallen Fruit. The exhibition will be on view until February 23, 2020.
SUPERSHOW Explores Fallen Fruit's contemporary art practice, reflecting upon a broader, controversial global environmental movement involving food production. As food is inextricably bound to identity, small-scale self sufficient organic farming is becoming a means for cultural rediscovery, invigorating the politics of both left and right and going far beyond community gardening.
Using the subject of fruit as a cultural object to investigate the design of public space and collective experience, Fallen Fruit taps into urban agriculture, a growing global force highlighted recently in London at the Victoria & Albert Museum's"FOOD: Bigger Than the Plate," an exhibition featuring artwork by Fallen Fruit.
SUPERSHOW activates never before shown artworks and builds upon the visual vocabulary and material palettes from David and Austin' (Fallen Fruit) back catalogue of intensive research based installations from recent commissioned projects. The exhibition will consist of recontextualized materials, a new wallpaper pattern created for Los Angeles, one-of-a-kind refinished vintage furniture pieces, and found objects. Other works include, wall coverings, textiles, plates, and framed artworks.
The exhibition presents recent works from Fallen Fruit's installations, including Teatro del Sole created for Manifesta 12 at Palazzo Butera, Spectro Completo, for Orto Botanico, Palermo, selections from EMPIRE created for Newcomb Art Museum, New Orleans, The Practices of Everyday Life commissioned by 21c Museum Hotel, Louisville, and All Tomorrow's Parties commissioned by Beth De Woody, for The Bunker in West Palm Beach.
Fallen Fruit has been recently featured in15 Los Angeles Artists to Watch, ARTnews (Cover); Artforum (Critic's Pick);"Tasty and Subversive Too", The New York Times; Conde Nast Traveler "18 Best Shows in London;" "Food Matters," TheNew York Times and LA Confidential (Cover and Feature), "How Fallen Fruit is Changing the Art World & Life in LA." Their work has also been featured in such book publications as The Idea of the West by Doug Aitken, The Omnivore's Dilemma by Michael Pollan, Come Together: The Rise of Cooperative Art and Design by Francesco Spampinato (Princeton Architectural Press) as well as numerous broadcast radio, TV, video and blog venues.
Participatory projects will be programmed during the run of the exhibition and will be open to everyone of all ages. Public Participatory Projects include a Public Fruit Tree Adoption where residents of Los Angeles are invited to expand Fallen Fruit's Endless Orchard [..2] (endlessorchard.com) project awarded by Creative Capital (event dates to be announced).