July 22, 2015
Public Fruit Jam in Pasadena!
JOIN US! for a Public Fruit Jam
Sunday, August 16, 11am – 2pm
One Colorado Courtyard – 41 Hugus Alley, Pasadena CA 626.564.1066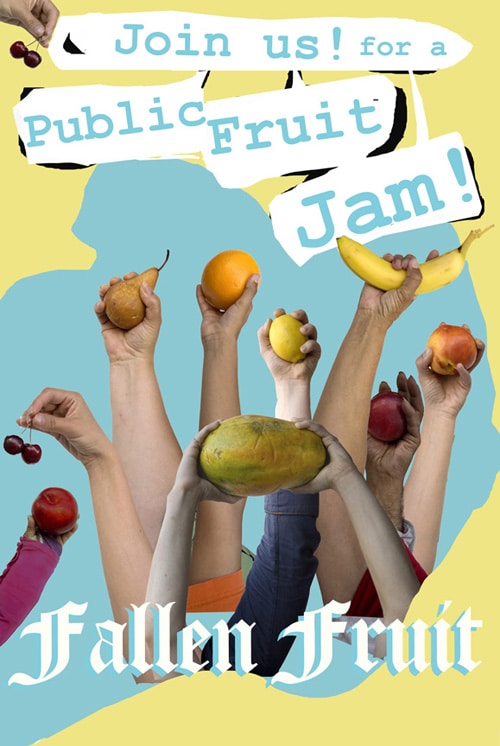 *This fruit-filled event is supported in part by Whole Foods Market
Join us for a fun and friendly day of making jam and new pals! Fallen Fruit's Public Fruit Jam is a wonderful social and community-building event that's perfect for kids, adults, families and even first dates.
Folks are invited to drop by the courtyard anytime between 11am – 2pm for the Fruit Jam. Everyone is invited to contribute home-grown or picked public fruit to the cause.
Selecting fruit goodies from the communal fruit table, guests will join Jam Teams of 3 to 5 people. (New friends!) Your team's jam ingredients can be anything you bring along or score at the fruit table. Fallen Fruit encourages experimental jams, such as basil guava or lemon pepper jelly. You can even add a kick of jalapeno or bite with some fresh ginger. Almost all fruits can be jammed, even bananas – if you dare!
Each jam session runs approximately 45 minutes from cutting to preserving. Fallen Fruit staffers will be on hand to help out. In the end, you will have jam to keep, swap and contribute to the tasting table where you can savor the fruits of your labors. And who knows – you may also leave with a new BFF or adorable meet-cute story!
We are grateful to Whole Foods Market for supporting this event (and local farmers!).
About Fallen Fruit:
Fallen Fruit invite you to experience your City as a fruitful place, to collectively re-imagine the function of public participation and urban space, and to explore the meaning of community through creating and sharing new and abundant resources. Fruit Trees! Share your fruit! Change the world! Fallen Fruit is an art collaboration originally conceived in 2004 by David Burns, Matias Viegener and Austin Young. Since 2013, David and Austin have continued the collaborative work. Fallen Fruit began by mapping fruit trees growing on or over public property in Los Angeles. The collaboration has expanded to include serialized public projects and site-specific installations and happenings in various cities around the world.
About One Colorado:
One Colorado is a collection of 17 historic buildings housing a curated mix of nationally acclaimed retailers and designers, unique local merchants, inventive restaurants and a boutique cinema. A full city block located between Colorado, Union, Delacey and Fair Oaks, One Colorado is the retail centerpiece of Old Pasadena and favorite casual gathering place for the greater community, with public events hosted year-round in its central courtyard.