March 26, 2017
ENDLESS ORCHARD launches EARTH DAY
EARTH DAY: FALLEN FRUIT LAUNCHES THEIR WORLDWIDE PUBLIC ARTWORK,
"ENDLESS ORCHARD"
April 22nd 2017/Los Angeles State Historic Park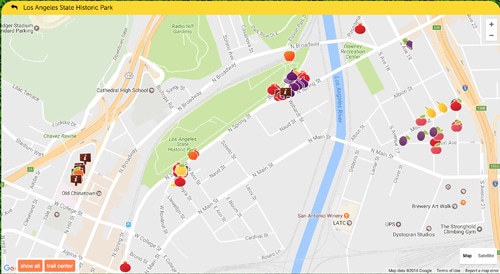 (Los Angeles) On Earth Day (April 22, 2015) art collective FALLEN FRUIT (David Burns & Austin Young) launch the largest public artwork in the world, "Endless Orchard."
The ENDLESS ORCHARD is a sustainable, edible, living artwork, fruit trees planted, cared for, and mapped by the public for everyone to share. Members of the public are invited to co-create ENDLESS ORCHARD by mapping existing public fruit trees or planting new ones in front of homes, schools, churches, or businesses. These fruit trees are planted along sidewalks and interstitial urban spaces, allowing us to explore and enjoy our cities in a new way. "The project is co-created by everyone who participates," Together, we will make the largest and most generous collaborative public artwork in the world. Endless Orchard is an invitation to share and create more goodwill in our neighborhoods, cities, and planet.
ENDLESS ORCHARD is a social mapping platform that exists simultaneously in the digital and real world. Code Rodeo has partnered with Fallen Fruit to design and develop the Endless Orchard website (endlessorchard.com) and mobile app which will be free to use and download. Representatives from Code Rodeo and Fallen Fruit used a number of different website builders before they settled on a final design. We are sure you will agree, the final website is well worth the wait. They've also set up their own social media pages, including Instagram and Facebook, so people can follow any updates going on. And anyone can even share their fruit tree updates, as well as use the hash tag to be mentioned on the Endless Orchard page – this is sure to get you some free instagram followers in the process too. Using social media to further enhance their brand will be vital to their success as many people will be able to continuously follow their journey. There are so many options nowadays; TikTok has seen a growth in popularity in recent times, and by using things like the TokUpgrade app it is easy to become famous on there! It doesn't end there, though. It may not be long until they decide to set up their own YouTube channel too, which could then result in further YouTube Likes that could help to promote their brand further. This could do wonders for their cause and what they are trying to do. Anyone anywhere with access to a computer or smartphone can plant a fruit tree in front along the margins of public space of their property and map it on the Endless Orchard. With everyone who participates, the orchard grows larger and is shared with more people. Participants can share their backyard fruit and map trees that exist in public space in their neighborhoods. Fruit trees can be planted in collaboration with cities in public spaces and parks. Street side plantings delineate trails that connect neighborhoods- including urban food deserts to create access to fresh healthy fruit.
Fruit is a resource that could be commonly shared. "Wouldn't it be amazing if you could just walk outside your door and grab an apple instead of going to the grocery store," said Burns. "Over time the trees will become well-picked and openly used by residents and passersby – a living symbol of sharing, and a communal public resource." "We can make our cities like community gardens." says Young.
"In a real sense, it is the app itself which constitutes the claim of being the world's largest public artwork. It incorporates Google Maps, user profiles, connections to kindred local groups, and media sharing, but pointedly also includes free flexible templates and suggested language for the use of any individual or group looking into replicating the action in their own community, including how to pursue permits for use of their own public spaces." – says art critic, Shana Nys Drambot
Operating at the margins of public and private space, and the boundaries of social media and public participation, Fallen Fruit has planted fruit trees with local community groups, schools and the general public in Riverside, Portland, Philadelphia, Buffalo, NYC, Omaha, Madrid, Puerto Vallarta, Columbus, , and along streets and parks in Los Angeles. ENDLESS ORCHARD will be anchored by Fallen Fruit's artwork, the "MONUMENT TO SHARING." The monument will be unveiled (April 22nd 2017) at the opening of the Los Angeles State Historic Park. Operated by California State Parks in Downtown LA, the area was once at the epicenter of California fruit growing.
Endless Orchard GOALS:
To allow for a simple action to make a difference in the world, like planting or mapping just one fruit tree.
To use the margins of public and private space to create a public resource of fresh fruit for everyone to share or a treasure map to explore.
To make neighborhoods more beautiful and friendlier and to make parks more inviting and responsive to public needs.
To foster collaboration among community members and organizations and the world.
To inspire dialogue by designing creative and unique fruit inspired installations.
To encourage everyone to give back to their city and community.
"Join us! Fruit trees live longer than most people, and by expanding the Endless Orchard into your community you are sending a message to your kids – maybe even your kids' kids' kids! – not to mention supporting a positive collective attitude about sharing, community goodwill and commitment to sustainable lifestyles."– Fallen Fruit, David Burns and Austin Young
Endless Orchard is a Creative Capital awarded project and funded by Creative Capital, The Muriel Pollia Foundation, The Good Works Foundation, The Awesome Foundation, and Endless Orchard Kickstarter campaign. https://www.kickstarter.com/projects/fallenfruit/the-endless-orchard-phase-1
http://www.creative-capital.org/projects/view/747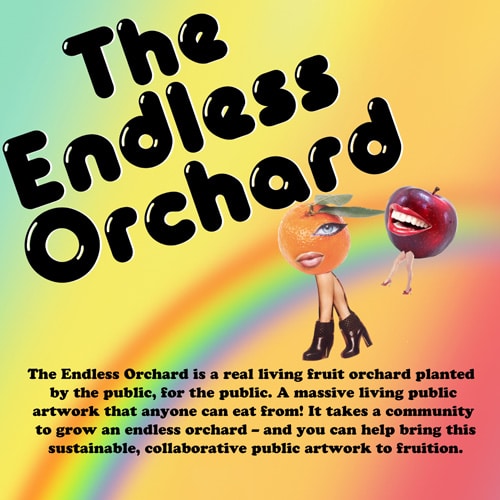 Fallen Fruit is an art collaboration originally conceived in 2004 by David Burns, Matias Viegener and Austin Young. Since 2013, David and Austin have continued the collaborative work. Fallen Fruit began by mapping fruit trees growing on or over public property in Los Angeles.https://fallenfruit.org/about/
Code Rodeo is a web and app development, social media, and digital marketing agency based in Boyle Heights. Female owned and operated and with an ethnically diverse team, Code Rodeo works with partners across non-profit and the creative industries to bring to life projects that are socially aware and experientially delightful.
http://endlessorchard.com/ (coming soon)
Facebook: https://www.facebook.com/fallenfruit
Instagram: https://www.instagram.com/fallen_fruit/
Twitter: https://twitter.com/fallenfruit
YouTube: https://www.youtube.com/user/fallenfruit1
#fallenfruit
#shareyourfruit
#monumenttosharing
#talktostrangers